Why use ethanol for fuel?
Biofuels like ethanol are a renewable energy source essential to fighting climate change.
Europe needs immediate action to fight climate change. Transport accounts for about a quarter of EU greenhouse-gas emissions, and road transport makes up more than 70% of that amount. Sustainable biofuels like EU ethanol are among the best solutions available today to help reduce emissions.
Why aren't we using more ethanol in fuel?
Ethanol is a clean, high-performance renewable fuel that works in most of today's cars and certain trucks. Its use boosts engine efficiency, helps reduce harmful emissions and pollutants and fights climate change. Ethanol will also drive the more efficient internal-combustion and hybrid engines that will make up a large percentage of Europe's vehicle fleet in the decades to come. It does not require investing in new infrastructure in order to deliver results.
What does the public say about using biofuels?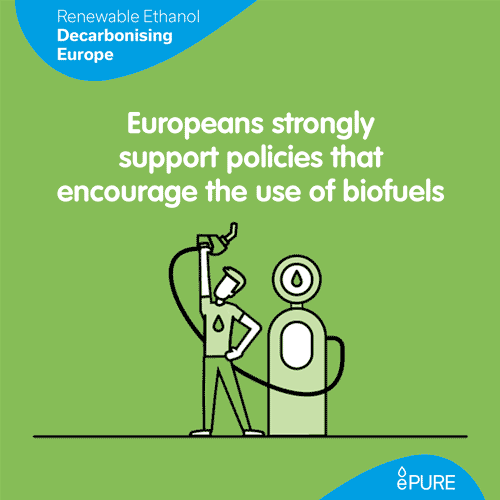 Europeans overwhelmingly support the use of conventional biofuels made from crops and believe EU policy should encourage it, according to an EU-wide opinion survey conducted in 2017. The poll, of 11,283 respondents in 28 EU countries, found that 68% of Europeans favour EU policies to support crop-based conventional biofuels, while just 13% are against such policies.
What do international organisations say about using ethanol?
International organisations such as IEA and IRENA have said that biofuels will be essential to achieving global climate goals. In its REmap report, IRENA stated that "Liquid biofuels – both advanced and conventional – will still be needed for the existing stock of vehicles with internal combustion engines and for transport modes where electrification is still not an option. The use of liquid biofuels could triple by 2030 compared to 2010 levels to reach ~66 billion litres."
In its Technology Roadmap for bioenergy, the IEA stressed the importance of biofuels to achieving Paris climate goals and said that ethanol production supports both energy security and food security.
And the UNFCCC has also said that "biofuels such as ethanol have a much lower carbon footprint than fossil fuels, and can be added to gasoline to reduce emissions."